Using Lanterns to Create Centerpieces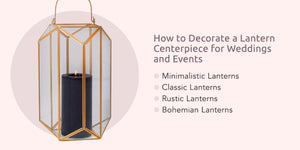 Whether you're planning a wedding, special dinner or other event, a thoughtfully crafted centerpiece can bring your table decor to life. Using lanterns to create centerpieces presents an opportunity to introduce different textures, colors, materials and the warmth of a candle's flame to enhance the event's ambiance.
How to Decorate a Lantern Centerpiece for Weddings and Events
Knowing how to make a lantern centerpiece begins with understanding how to take advantage of the lantern's style and materials.
Minimalistic Lanterns
These lanterns are 100% glass or comprise a thin metal frame and give you a great deal of creative freedom. You can fill the products with fake or fresh flowers and greenery to evoke a specific seasonal look or with fairy lights to add some sparkle when the lighting is dim. 
Glass lanterns are ideal for themed events. For instance, you can pour sand into the bottom of the lantern and surround the candle with shells for a beach theme. They're also fantastic lanterns for hanging as part of a floating centerpiece.
Classic Lanterns
Tall, classic metal-framed lanterns make the perfect central anchor as part of a larger decorative piece of floral elements or leafy boughs. They can also stand alone as elegant, stately centerpieces. Tying a ribbon or a small bouquet to the top of a tall classic lantern is an ideal way to add a dash of color to your centerpiece. 
Small classic lanterns pair well with minimal decor, such as a floral or leafy sprig or two, either inside or next to the lantern. 
Rustic Lanterns
Rustic lanterns often have a heavier feel and a wooden or brass frame. When incorporating these products into your centerpiece, you can stick with lighter shades for the rest of your table decor to ensure a balanced setting. These lanterns make fitting centerpieces for outdoor events and work exceptionally well with white elements such as white carnations when making a flower and lantern centerpiece. 
Bohemian Lanterns
Bohemian lanterns are typically metal and bronze- or gold-colored and frequently have detailed patterns on at least a few sides. These products are exquisite pieces of art and make a statement as a stand-alone centerpiece.
A small- to medium-sized white candle will illuminate most of the patterned bohemian lantern, showcasing its beautiful design. Mounting your bohemian lantern on wood or glass is a great way to add contrast and make it stand out.
Create Beautiful Lantern Centerpieces With Serene Spaces Living
Ready to take your centerpiece to the next level with a Serene Spaces Living lantern? Shop our stunning range of products, from our popular vintage gold Taj lanterns to the beloved antique white lanterns. View our lantern collection online today!